Every now and again, whilst I'm away from the office, the gadget pixies visit my desk and leave something interesting for me to play with. It's a bit like Bagpuss, except stuff works when it arrives and I can never get the guys to wake up when I need them too.
The last time this happened there was a tablet sitting on my desk. I like it enough to write about it.
The Stylistic is never going to win a beauty pageant. Which is a shame, because it has all the features that I usually bemoan the lack of in Windows Tablets. Most of them are designed for the consumer. That's great, but I get involved in lots of projects these days where the end user wants the convenience of a tablet device but the demands of their IT department make them unusable.
For example, I once visited a site where the IT department had imaged the tablet we were to use and applied their standard group policies. They required a smart card for authentication and forced CTRL-ALT-DEL to logon. You can probably see the problem with that.
It wouldn't phase the Stylistic.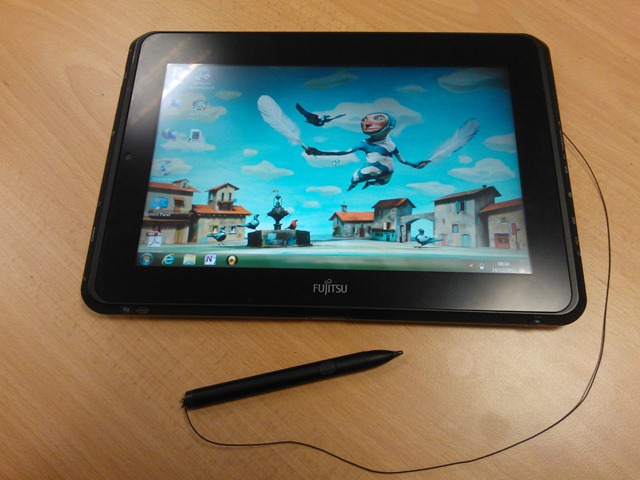 Stuff I like about it
Removable battery. I've played with this for a while now, and I can report that battery life is on a par with the other tablets I've played with – four to five hours. That's good, but not a working day. Being able to carry a spare battery if I need it means that I can be away from a power outlet all day and not worry.
Smart card reader. Two factor authentication on a tablet – fantastic! It's just what enterprises need in order to support these kind of devices. As an IT manager I want to be able to apply group policies to these devices. They are extremely portable so I have to be sure that the data on them is secure.
TPM Chip. I can bitlocker the drive on this thing properly. Shame the one I have to play with came with Windows 7 Professional on it. Be careful with this, though: I checked the product information and the TPM chip is an option on the device. I think that's a mistake on Fujitsu's part – most organisations won't check and will probably order the wrong variant.
Fingerprint Reader. Personally, I don't like or trust fingerprint readers for authentication, but I like that I have the option.
Matte screen. This is great! Virtually every windows tablet I have seen has a glossy screen. That's great in the shop window and a real pain in the real world as I can't see the screen for the reflections. The Stylistic has a matte screen and it's incredibly easy to read and use.
Stylus. It's much easier to write notes using OneNote than type on a software keyboard. The digitiser on the Stylistic is a dual mode one that works with fingers and a stylus and I like it.
Multi-touch. The touch digitiser on the Stylistic can handle four points. It may be able to handle more but I haven't found any detailed information. Four is better than most windows tablets, however, which tend to deal with only two touch points.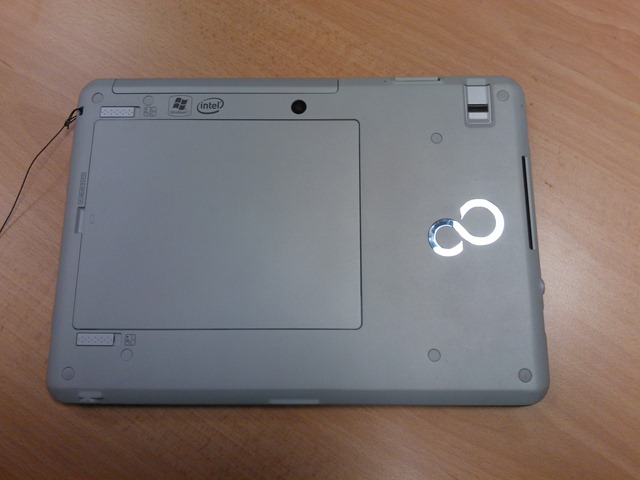 Stuff I don't like about it
Stylus. Don't get me wrong – the stylus is great. The fact that there is nowhere to put is is very annoying. It's a nice stylus, but there's no clip on it so I can't treat it like a pen and keep it in my pocket, and there's nowhere on the tablet to stow it away.
Styling. From the front the Stylistic doesn't look too bad. However, flip it over and it's been hit with the ugly stick. I realise that Enterprise purchasing teams don't care about looks but users do. Why can't it be sleeker. Heck, I'd settle for it simply being all one colour!
Fiddly buttons. There are lots of buttons down the side of the Stylistic. One brings up a software keyboard, but it's not the standard Windows 7 one – it's a nasty one from N-Trig that crashes a lot. One makes the screen rotate which I view as a bit surplus to requirements – why can't I simply have a lock rotation button like every other tablet. With the stylistic I must fiddle with a tray app to turn auto-rotate on and off, then poke at the little button to rotate the screen if I have disabled the auto-rotate in an outstanding failure of ergonomic design. There's also an 'Alt' button that I admit to not having figured out.
Crazy Gestures. Why do all these tablet manufacturers insist on 'improving' Windows 7 with complex multi-touch gestures that nobody can remember and really aren't useful. I don't want crazy three- and four-finger gestures. Fortunately this is all software and I can turn it off.
32-bit Only. Why would you release a piece of kit these days that isn't 64-bit capable? I appreciate that the tablet only has 2Gb of memory (which is enough for most people's needs) but operating systems are moving steadily to 64-bit and I'd rather not be left behind.
Overall: A Win
Most of the things I find annoying are implemented by software and I can turn them off. The fact that it's a sexy as a house brick is of little importance to the enterprise market at which it is aimed. Overall the Stylistic has a raft of features that enterprise IT demands but doesn't sacrifice the key elements of tablet design to deliver them. The Stylistic is not too heavy to hold, is a nice size and has good battery life for a Windows machine. As an enterprise tablet I think it's a solid choice that supports all the security functionality I would want to enable for such a mobile device.