Mola is opposite the Wittenbergplatz U-bahn station, just along the Ku'damme from KaDeWe. It's not the most sophisticated restaurant you'll find, but it's a wonderfully authentic Italian restaurant.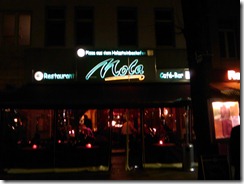 The first thing you'll notice is the marvellously jovial owner (at least I think he was the owner) who welcomes you in Italian. The next thing that you'll notice is the large traditional pizza oven, with the pizza chef making fresh pizza by hand right in front of you.
I wouldn't pretend that the menu is sophisticated, but the pizzas are wonderfully tasty, authentic thin Italian pizzas. The staff are jolly, friendly and helpful and the overall atmosphere is welcoming and relaxed. They also serve Warsteiner. It's going back a log way, but my childhood pen-friends in Hamm, in the west of Germany always used to maintain that Warsteiner was their favourite bier (much better than Krombacher, I recall).