It's good to see familiar faces once again here at @media. This year's conference is around the same size as the first one in 2005 and it has a strangely familial feeling. Nick's here as a volunteer '@mediator' so he was manning the desk as we registered.
A note at this point about the conference swag: aside from the very nice T-shirt, which strangely matches my normal style (Andy often refers to me as 'Mister Taupe'), the conference bag is excellent! Made from coconut fibre, it hits all the marks for eco-friendliness, but it's a very practical, messenger-style durable bag, and perfect for my Dell Mini, upon the keyboard of which I currently type. A bag I shall no doubt use a great deal in the future – no doubt the original aim. The whole look and feel of the conference this year is really good – sophisticated and earthy.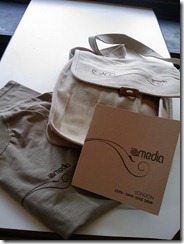 Andy Clarke opened the conference with a rousing session about changing working practices in the design process. It was interesting, because it reminded me of the more agile approach we take to software development. I also love the feel of Andy's sessions – they have a very distinctive visual style and draw on lots of things I remember from my youth.
Simon Collinson followed with a great discussion of how his agency approach creative projects and some of the tools they use. I found it interesting that he disliked sprints so much, but on reflection, the creative process of web design is perhaps less naturally iterative than the software development projects for which we use Scrum. A few simple things struck me with the old 'why didn't I think of that' and some elements that I can achieve for better interaction with our customers through innovative repurposing of existing tools that we already have and use.
Taking us up to lunch was Jon Hicks. I really got a lot out of his session. Whilst icon design is not something I do much, it was interesting to see the thought processes and hear about some of the pitfalls when icons don't have the universal meaning you as a designer think they do.
So far then, really good. I love the fact that this year has the same small, friendly feel of the very first @media. May it long continue.