First I thought I could do an in-place upgrade of my Windows 8RC PC, turns out you can't (not sure if it would have been wise anyway) so it was format disk time.
I had hoped for a seamless install of Windows 8, but it hung after detecting devices. It seems it was the 'old problem' down to Lenovo/Nvidia Optimus graphics drivers issues. So I checked my bios settings which were set to Nvidia Optimus mode disabled (the only way I could get the RC to install), and changed it to Optimus mode enable and the install all worked without an issue. However though as a laptop it work find,  including with a second external monitor. I did have to set Optimus back to disabled and run in discrete video mode if I wanted to use a projector. It seems the Optimus mode certainly gets confused with the Benq projector we have in the office, it will allow you to extend your desktop but not duplicate it. As soon as you switch back to discrete graphic mode all is OK (though you do lose the ability to run two external monitors)
On completing the installation I ran a Windows update which found an update Lenovo display driver (it had no effect on the Optimus issue) and Conexant audio driver (one I had to manually update on the RC to get Lync 2013 working).
However, on checking the Device Manager I was still missing drives for a couple of devices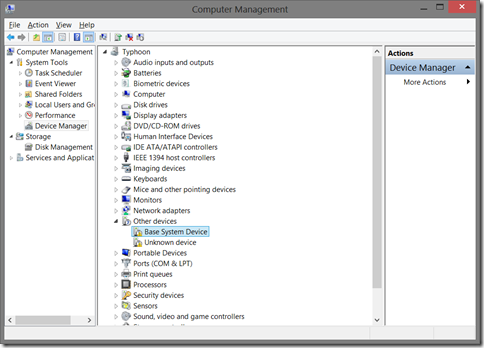 I think they are Power Management and Intel AMT, but the beta drivers from Lenovo don't seem to work so I will need to keep looking.
So now to see how it runs, first impressions are good, seem quick.