This is another of those posts I do so I don't forget how I fixed something.
I have a requirement to record videos for a client in 720p resolution. As I use as SurfaceBook with a High-Res screen I have found the best way to do this is set my Windows screen resolution to 1280×720 and do all my recording at this as native resolution. Any attempt to record smaller portions of a screen or scale video in production have lead to quality problems, especially as remote desktops within remote desktops are required.
This has been working fine with Camtasia 8, but when I upgrade to Camtasia 2018.0.7 I got problems. The whole UI of the tool was unusable, it ignored the resizing/DPI changes.
The only fix I could find was to create a desktop shortcut to the EXE and set the Properties > Compatibility > Change high DPI settings > and check the 'Override high DPI scaling behaviour' and set this to 'System'.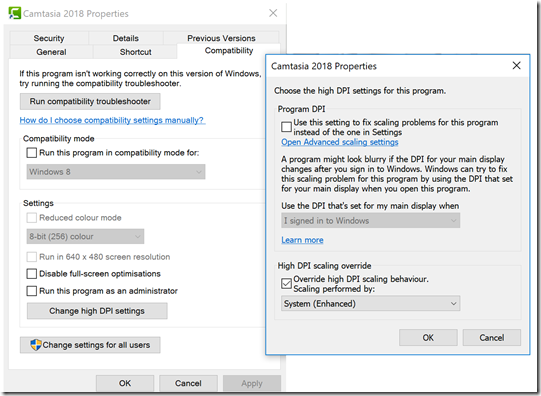 Even after doing this I still found the preview in the editing screen a little blurred, but usable. The final produced MP4s were OK.