Are you enthused by the all news at Build 2017?
Do you want to find out more about VSTS, DevOps and Continuous Delivery?
Well why not take the chance to join us on June 17th at Black Marble, or one of the over 25 other venues around the world for the first Global DevOps Bootcamp?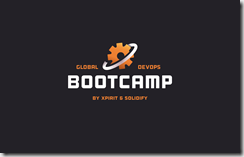 The Global DevOps Bootcamp is a free one-day event hosted by local passionate DevOps communities around the globe. Find your local venue on the Global DevOps Bootcamp website or search for Global DevOps Bootcamp on EventBrite
Learn about the latest DevOps trends, 'get your hands dirty during the Hackaton', gain insights in new technologies and share experiences with other community members. All based around the concept of "From Server to Serverless in a DevOps world". The Global DevOps Bootcamp is all about DevOps on the Microsoft Stack
Remember, places are limited at all venues so make sure you get your name down soon to avoid disappointment