We've been receiving fabulous feedback for our Christmas 'card' this year!  To mark our 15th Anniversary, we decided to put together 'A Fight Before Christmas' based on  the poem, 'T'was the night before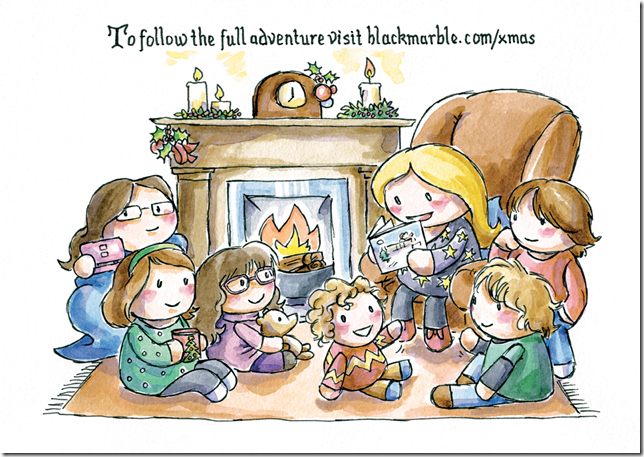 Christmas …'.  We are delighted with the response and I thought I would put together some of them here.  If you would like your own copy of the book, please email us at xmas@blackmarble.co.uk with your address!
Enda Flynn, Comperio:  great work with the Xmas card – my 3 year old has been picking it as bedtime story.

Hazel Woodcock, IBM: The book is fantastic. Story, artwork, production, all first rate.

Eileen Brown, Social Media Guru: Thank you so much for quite frankly the best Christmas card I've received for years – what a joy to go through it.  Inspired.

Wilbour Craddock, Microsoft Canada: Awesome! Simply Awesome!

From Martin Casey, Arekibo: Congratulations to @BlackMarble – Your Christmas book/card is exceptional – thank you!

Amanda Lennon: Thank you SO much for my Xmas story book – absolutely fab!

Diarmuid Murphy, Microsoft Ireland: Just got this gorgeous Christmas storybook from @BlackMarble put me in the festive mood.

Ben Nunney, Microsoft UK: Wow. Epic Christmas Comic from@BlackMarble arrived this morning…

Richard Costall, MVP: Big thanks to @BlackMarble for a fantastic Christmas card/story very clever. #HappyChristmas

Craig Murphy, MVP: Awesome @BlackMarble Xmas greeting this year!

Ian Palmer, University of Bradford: Just got the 'card' from@BlackMarble. They surpassed themselves this year. This is a BOOK guys, not a card. Genius. 🙂

Steven Murgatroyd, KCom: Just got this from @BlackMarble, love it…very creative! Merry Christmas! #xmasfun

Kevin Ball, HP: – it's fabulous!
Plus we are supporting The National Museum of Computing and Bletchley Park with our Christmas campaign!