Black Marble hosted the Second Architecture Forum in the North, and was delighted to welcome back Matt Deacon, Simon Thurman and Simon Davies from Microsoft.  this time they were joined by Mark Richardson and Giles Davies from the Developer Tools team.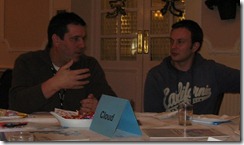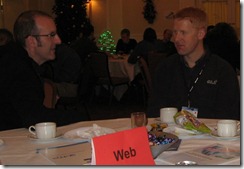 The theme of this year's Forum was the Professional Developer's Conference (PDC) that took place just two weeks before in Los Angeles.  Matt Deacon, Chief Architectural Advisor from Microsoft opened with the State of Nation.  Simon Davies was next up, exploring Azure – Past, Present and Future.  Simon was then joined by Black Marble's Robert Hogg to discuss AppFabric.  Finally before lunch, Simon Thurman MC'd the Web Session introducing Black Marble's Leon Nightingale (SilverLight 4), Barry Wimlett (MVC) and Rik Hepworth (SharePoint 2010).
Lunch was a lively affair with round table discussions taking place over Turkey and Stuffing sandwiches and mince pies!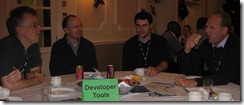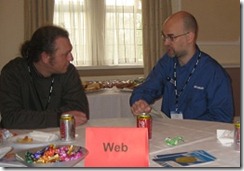 After lunch saw Simon Davies return to the stage to discuss Data Services, followed by the Visual Studio 2010 team with Mark Richardson, Giles Davies and Black Marble's Richard Fennell.  The day was wrapped by  Robert Hogg's presentation on SQL Server Modelling (formerly known as Oslo).
And another lucky attendee walked away with an XBox!