Today has been interesting. Rik and I started the day doing the sightseeing we had time for. The Gaudi cathedral had been particularly recommended, so with limited time at our disposal, that's what we decided to see. We arrived at the gate just as it opened, and were in within a few minutes. The cathedral is very, very impressive, though there is an awful lot of construction work going on at the moment. It is an amazing structure, with a very impressive sense of light and space inside: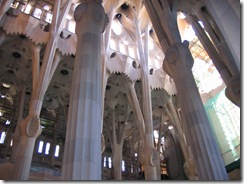 Following the trip to the cathedral, we headed back towards the convention centre to get lunch and to try to get into the main auditorium for the keynote early enough to get a good seat. I was glad that we made the effort as we managed to get seats near the front tucked off to one side. Here's our view of the stage, and the auditorium once it had nearly filled:
The keynote by Brad Anderson was interesting, with a number of announcements and some very useful demos. I was particularly impressed with the drive towards virtualisation, and the available and forthcoming tools to help you manage the resulting data centre. There was a live migration demo using Server 2008 R2 which demonstrated a live move of a virtual machine from one host to another with no interruption of service. In addition, Gemini was demonstrated; a self service BI offering allowing anyone within the organisation to view and manipulate data from sources such as SQL Server. The most impressive part of the demonstration as far as I was concerned was the ease (and speed!) with which the data could be published to SharePoint for consumption within the business: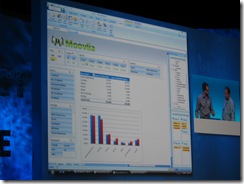 Also mentioned were items such as Cross Platform Extensions for SCOM allowing monitoring and management of non-Microsoft systems and server Application Virtualisation allowing the separation of the server OS and the server application allowing each to be managed (and patched) separately – all very interesting! A number of announcements were also made, for example System Center Operations Manager 2007 R2 Beta will be available for download at the end of November.
From there it was off to the first session; Planning and Operations Tools for SharePoint which provided some useful pointers and allowed the possibility of some feedback to the managers of the solution accelerators programme.
After the sessions this afternoon, Rik and I spent some time wandering around the Ask The Expert area generally asking awkward questions of most of the people we could find.
All in all it's been a very useful first day.