Tuesday's IT Camp in Leeds was great fun and introduced lots of people to Hyper-V.
The day itself was very different to the normal events that we've seen or been part of; I think I counted two PowerPoint slides during the entire event! The attendees were given the opportunity to try out Microsoft's Hyper-V Server installing it on a VHD on the file system on their own laptops. We'd brought a couple of laptops along with blank disks so that others could also play and these were snapped up very quickly.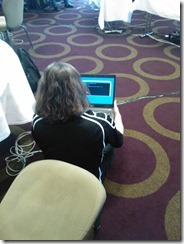 As is usually the case, not all of the demos went entirely according to plan, however nobody present seemed to mind too much. Andy and Simon did a marvellous job working around the problems and keeping the event flowing. There was lots of enthusiasm for more events in Leeds – we'll keep you posted when more dates in Leeds become available.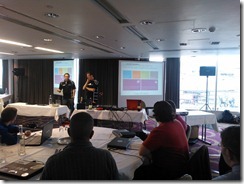 There were lots of specific questions both relating to Hyper-V and on other subjects, which we were pleased to help with. I hope that everyone who attended left with knowledge about, and enthusiasm for Hyper-V, which is what the day was all about. A good many of the attendees seemed to enjoy getting stuck in with Hyper-V server.
Along with Rik's recommendations, I have a few additional resources related to Hyper-V that I use on a regular basis:
To allow remote administration of Hyper-V from a Windows 7 computer, you'll need the remote server administration tools for Windows 7. After installing the appropriate package from the link above, the remote admin tools can be enabled from the 'turn Windows features on or off' area of Control Panel. A combination of the remote admin tools and John Howard's HVRemote allows quick and easy setup of administration of Server Core or Hyper-V Server.
Tore Lervik's Hyper-V Monitor Gadget allows quick and easy monitoring of Hyper-V virtual machines from your desktop – this is an invaluable tool to keep an eye on your virtual servers and those of us who look after our Hyper-V servers at Black Marble recommend it!
The Microsoft iSCSI Software Target was mentioned a couple of times during the event; I've used it a few times to create the shared storage that is required for a cluster. It's a quick and easy setup and turns almost any old computer into storage suitable for building a cluster on. It's even supported in production, and is completely free!
Andy and Simon are running more hands-on IT Camps; a full list can be found at http://uktechdays.cloudapp.net/it-pro-camps/ – if there's anything on the list that you'd like to see, get registered and come along!